Borderlands Unitarian Universalist Church
Amado, Arizona
Our services in June will be an opportunity – especially during Pride Month – to focus specifically each Sunday on particular issues that I believe our principles guide us to engage ever more boldly with as an expression of our values as UUs. I know they will be issues near and dear to many of our hearts, and I'm excited for the chance for us all to keep sparking our imaginations about the hope we carry and the potential we have to manifest increasingly meaningful transformations as a collective community – around LGBTQIA+, refugee/migrant, financial, and age-related concerns.
As Pastor Seth moves us increasingly from abstract metaphor toward fleshing out our values and realities, the final service in June, will be lay led and will focus on our learnings and inspiritations from his services.
Sunday June 4, 2023
Sunday Service, 10:00 AM – 11:00 AM
Coffee following Service
Sunday June 11, 2023
Sunday Service, 10:00 AM – 11:00 AM
Coffee following Service
Sunday June 18, 2023
Sunday Service, 10:00 AM – 11:00 AM
Coffee following Service
Sunday June 25, 2023:
Sunday Service, 10:00 AM – 11:00 AM
Lay led, focus on our learnings and inspiritations from the June services.
Coffee following Service
Our Choir
After three pandemic years without a choir, the BUU choir is back, under the direction of Leslie Carter!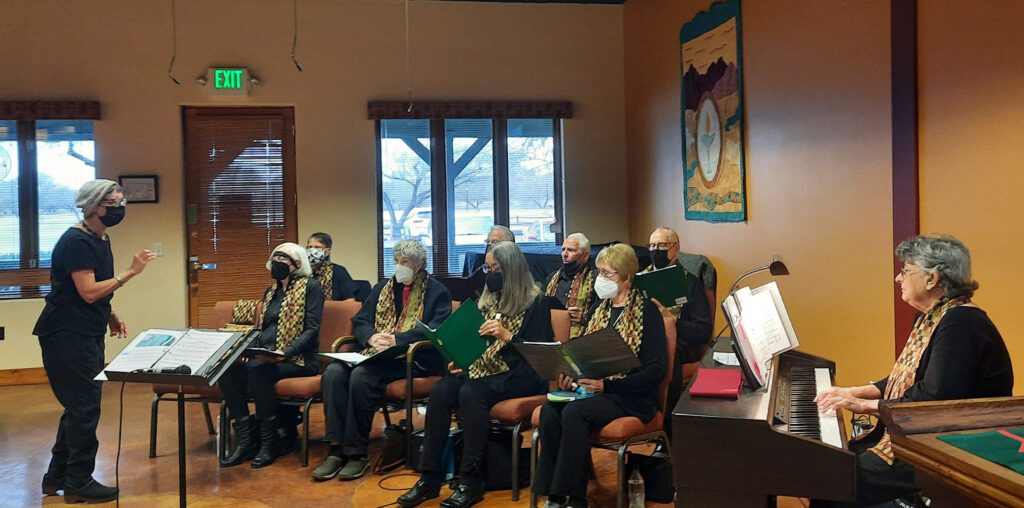 Transitions Pastor
Rev. Seth Wispelwey (he/him)

Rev. Seth Wispelwey is a passionate organizer, consultant, activist and the Transitions Pastor for Borderlands Unitarian Universalist (BUU). Ordained in the United Church of Christ, he has worked closely with UU congregations and national staff throughout his career.  Seth's seminary work was at Princeton Theological Seminary and completed at Boston College. He has a BA from the University of Virginia and a Master's in Pastoral Ministry from Boston College.
Before coming to Borderlands UU, Seth spent years organizing, equipping and mobilizing people of faith and conscience. He assisted them in their efforts to meaningfully impact farm-worker rights, human trafficking, AIDS, hunger, poverty, and white supremacy. Much of his organizing work going back to 2004 was with the ONE Campaign, Bread for the World, Fair Trade Boston, International Justice Mission, and Coalition of Immokalee Workers. Seth was Executive Director of Virginia's only (at the time) 24-hour safe house for survivors of human trafficking, and then served as Director of Restoration Village Arts. There he co-created Congregate, the entity that helped mobilize hundreds of folks to stand up to white supremacists and support our community in Charlottesville.
Also he has specialized in coming alongside congregations in times of transition, reinforcing and building firm foundations for transformation and growth. Seth worked closely with Unitarian Universalist (UU) congregations going back to 2004, organizing work with ONE. Most recently, he has worked closely with Thomas Jefferson UU in Charlottesville and national leaders at the Unitarian Universalist Association (UUA) on the anti-white supremacy work stemming from his efforts in Charlottesville.
Seth loves spending time with his 13-year-old child, often carting them to circus classes and recitals, and playing games at home. Seth loves gardening, cooking, walking his dog Willow, and enjoying a great film. Growing up in Charlottesville, VA, Seth has strong family roots in VA.