Borderlands Unitarian Universalist Church
Amado, Arizona
 September we will be moving to a new theme, sacred spaces.
Sunday September 3, 2023
Sunday Service, 10:00 AM – 11:00 AM
Nancy Murphy and several people she has recruited will introduce the theme of sacred spaces.
 Coffee following Service
Sunday September 10, 2023
Sunday Service, 10:00 AM – 11:00 AM
"Love is a Verb"   Janine Gelsinger, Executive Director of UUJAZ, will tell us about her visit to Memphis and the museum that has been dedicated to the life and work of Martin Luther King, Jr.
Coffee following Service
Sunday September 17, 2023:
Sunday Service, 10:00 AM – 11:00 AM
Jeff Herr, A speaker from Save the Santa Ritas, will bring us up to date on what is going on in our beautiful Santa Rita Mountains.
 Coffee following Service
Sunday September 24, 2023:
Sunday Service, 10:00 AM – 11:00 AM
Lenny Freedman, will talk about labyrinths, their history and meaning and how they are used which will help us appreciate our own garden even more.
 Coffee following Service
Our Choir
The BUU choir is back, under the direction of Leslie Carter!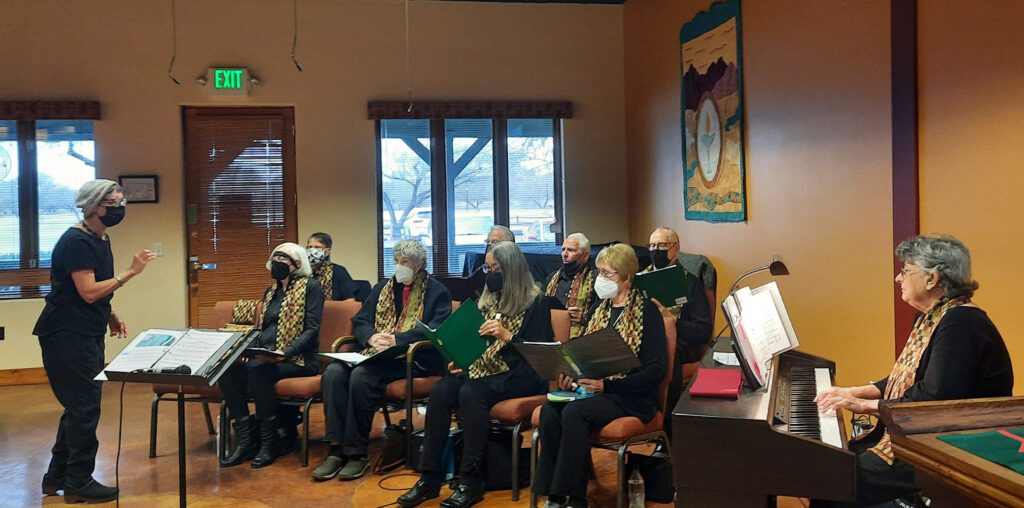 BUU Worship Arts Team

At BUU we have a creative and energetic Worship Arts Team that is responsible for planning our Sunday services. Our normal process is to have three minister led services each month except for July and August. Right now we are in a transitions mode without a regular minister, but we expect to have ministerial services three times a month through guest ministers starting in October.
We always enjoy getting to know each other even better through our lay led services. About once a quarter we have a panel of members presenting their This I Believe essays, inspired by Edward R. Morrow's past series of that title. We also have outside speakers from community groups and resources sometimes on a special topic of interest. Lay led services retain our particular, meaningful ritual parts that include lighting and extinguishing the chalice, reciting our covenant, sharing part of our Sunday plate with local charities, and singing Spirit of Life.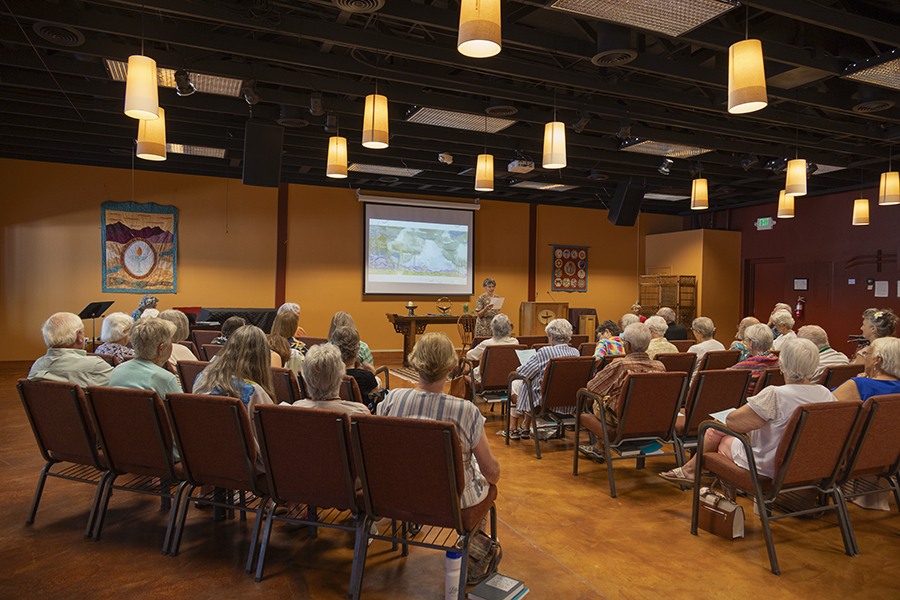 If you have already discovered us and have an interest in connecting through participation in the planning or implementation of Sunday services, contact Diane Farone with any questions you have. We always need people who can be Worship Associates or Leaders, who want to be involved in planning services, who have a passion for conducting a lay led service on a favorite topic, who want to be greeters or ushers, and especially anyone who has skills with technology for streaming or recording and uploading services.
Our members are Mary Arrigoni, Leslie Carter, Diane Farone, Martha House, Ginny Lopez, Nancy Murphy, and Marilyn Taylor.
Share The Offering Sept. 2023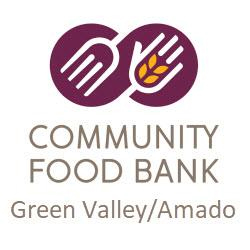 Green Valley and Amado Food Banks
50% of Sunday Collection goes to the Food Banks