Borderlands Unitarian Universalist Church
Amado, Arizona
Welcome Visitors! At BUU you will find a spiritual home here filled with love, tolerance and justice. We look forward to meeting you!
We are located in Amado Territory Ranch off Interstate 19. We are a few miles south of Green Valley, AZ, at the foot of the Santa Rita Mountains. Many of our members moved to Green Valley and surrounding communities after their retirement.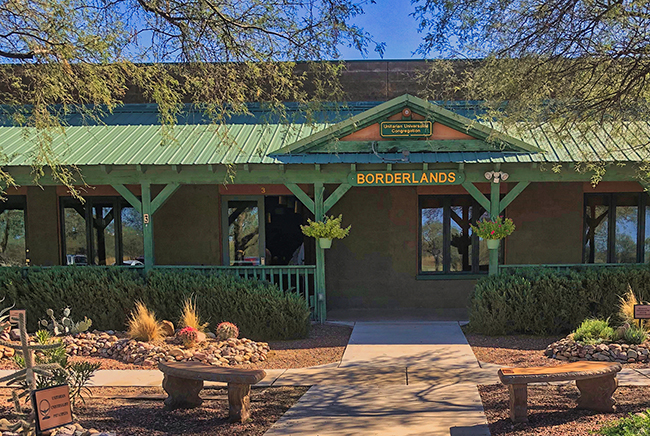 We welcome all people. BUU congregation celebrates the creative possibilities of working with and learning about others.
We welcome all without regard to age, race, gender, gender orientation, economic status, abilities/disabilities, and beliefs.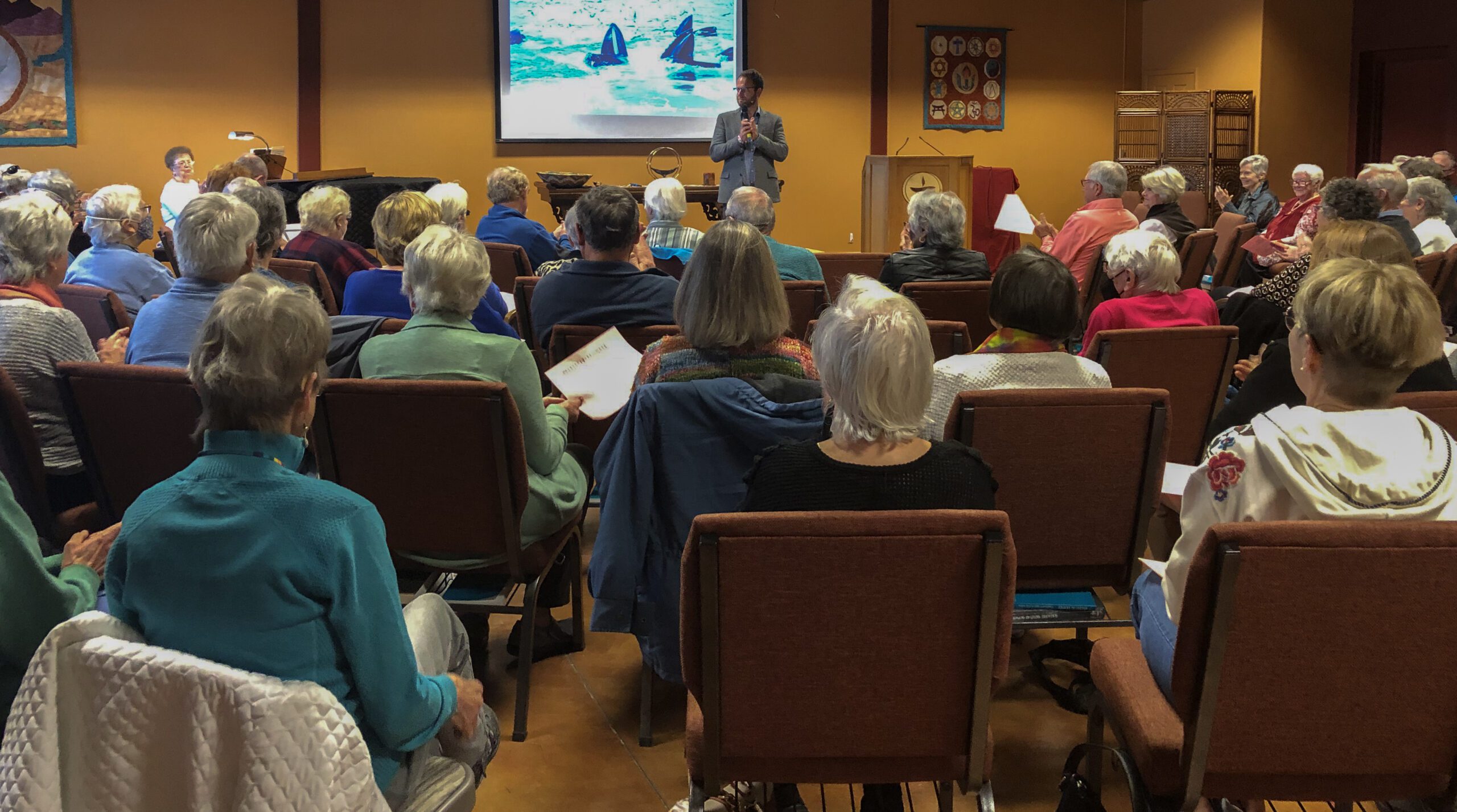 Come to our Sunday Services. In fact, because our services vary, visit more than one time as our services vary from Sunday to Sunday. After each service we invite everyone to join us for social hour in our Art Gallery or the Meditation Garden.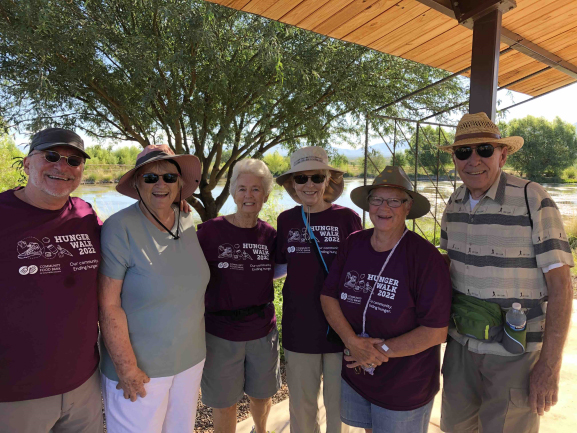 We are committed to being accessible for all who would  like to join us.
From worship services to social justice work to education to social events to community outreach, there is a place for everyone at BUU.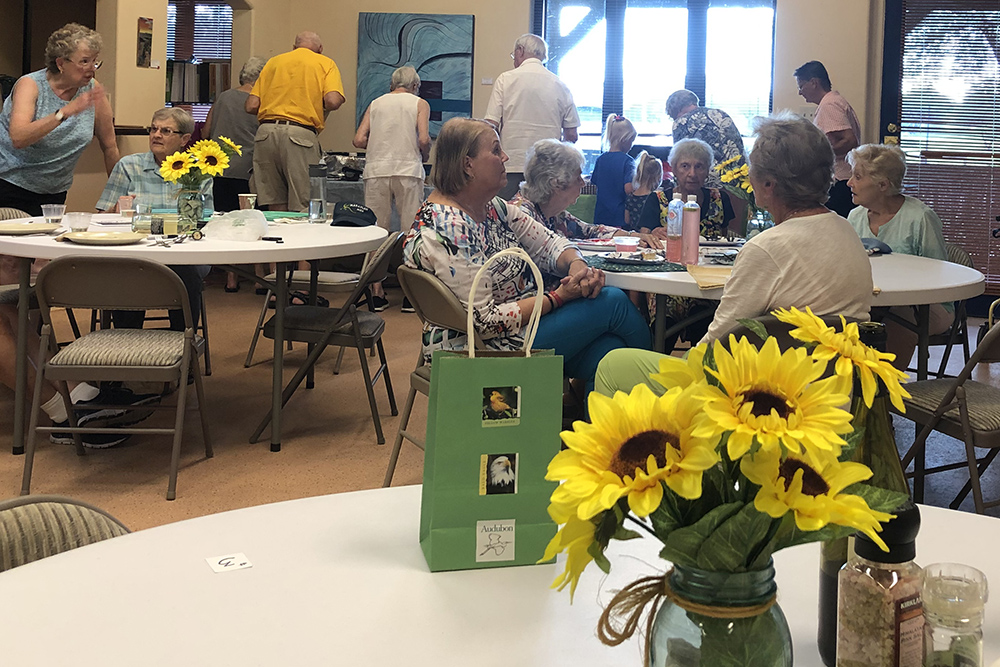 At BUU you will find a spiritual home full of love, tolerance and justice. We look forward to meeting you!
What Can I Expect?
Elements of a typical Sunday Service include:
Words of welcome;
Lighting our flaming chalice, which is the symbol of our faith;
Music, both instrumental and vocal, and in a variety of styles;
A time for sharing the joys and concerns of the congregation;
A meditation or prayer;
Readings—historical or contemporary;
A sermon given by our minister, a guest speaker, or a member of the congregation; and
An offering, collecting financial donations for the congregation and for justice work in the community.
What if I Need to Move My body?
You are also welcome to walk or stretch in the back of the sanctuary as needed. This is your time to honor your needs.
What Accommodations Do You Offer?
There are four handicapped parking spaces and a T-Coil for the hearing impaired.
If you need special accommodations to attend a Sunday service, please don't hesitate to contact us.
What Happens After Worship?
Each worship service is followed by a casual, friendly social hour.  Coffee and refreshments are available. We meet in the Art Gallery or in the Meditation Garden.
F.A.Q.
Frequently Asked Questions
Do UU (Unitarian Universalist) believe in God?
There is no single answer. Unitarian Universalist are people of many beliefs and backgrounds: you may find people with a religious background, people with none, people who believe in a God (theists); people who don't (atheists), people who let the mystery be (agnostics) and those guided by reason & science (humanists).
What is meant by Transitional Minister?
The concept of transitions ministry covers several types of ministerial or pastoral service for a designated period of time to assist a church that has recently lost a minister and has work to do. In addition to providing worship services and pastoral care, the transitions minister helps focus the congregation on clarifying its desired future in order to gain greater unity on what kind of called, or permanent, ministry to seek.
Does Borderlands have a children's program?
Though we welcome children to our services we do not have a program at this point. As many members are retirees, children often come and brighten our Sunday services.
Do Unitarians read the Bible?
Christianity in general, and the teachings of Jesus and are one of the 6 Sources that Unitarian Universalism draws upon to form our beliefs. There are Christian Unitarian Universalist. In many UU Churches you will find that references to Jesus & the bible take a more philosophical or figurative approach rather than literal.
Do Unitarians believe in Jesus Christ?
For many UU's, Jesus exemplifies the beliefs of our 7 Principles and his teachings may be used as examples in sermons. While some Christian UU's may see Jesus as their Savior, that is not a widespread belief in Unitarian Universalism
Under Shade Sail: Come, gather for socials and group meetings under the new BUU Shade Sail, designed to create welcoming space in both summer and winter.
Walk the labyrinth in our meditation garden.  What a peaceful, nourishing space!
Enjoy the short video of coffee after church in the garden.